Another series of fun facts (100% true) that you'll read nowhere else…
Blogging is not all about serious stuff, impressive knowledge and incomparable wisdom from far away lands. I like to share little things that crack me up, that make my mind spin with incomprehension and makes me wonder what i'm doing here.
#1 People born in hot countries do not like the heat. Shocking I know, coming from a mild climate country, I always imagined people living under the sun enjoying the heat, the sea and everything else. Turns out I couldn't have been more wrong. After meeting loads of people from Tunisia, Libya and other hot countries, i can tell you they like the cold! As soon as it get hot they turn on the AC to freezing temperatures and when i say oh-so-happily that i enjoy the heat, they think i'm joking. Who's kidding who here?
#2 There are no (or very few) Libyan restaurants or take away in Zawia, Libya. No matter what it says on the front door or on the menu, chances are extremely high that you are in a Tunisian restaurant. The owner may be Libyan but the cook, the staff and yes, the food is Tunisian. I don't know the actual numbers but i'm pretty sure the Tunisian community in Zawia is just as large as the Libyan one.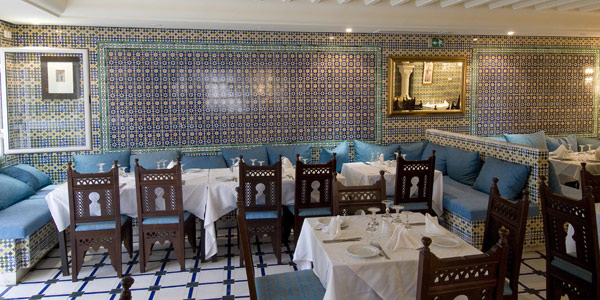 #3 Despite Libya being an oil and petrol producing country, petrol shortage is all too common. Sometimes it's because of a strike somewhere, sometimes there is a clash on the delivery route, it could also be a political act. Regardless of the reason, every so often people find themselves unable to go anywhere, instead spending the day queuing for a ration of petrol. And when strikes or fighting isn't the source of the problem, you can always count on rats (no kidding). Typical of Libya they have the money and the oil yet basic services are rubbish: infrastructures and networks are very old, outdated and in a very bad state of maintenance.
#4 Bump or no bump, that is the question. More than once we have noticed in Zawia bumps appearing and disappearing from the road. In exactly the same place, one day there is a massive bump and the next the road is smooth. And the presence/absence of the bump keeps changing. Not 100% sure why but my guess is disagreement between family clans. Since people make bumps themselves in their neighbourhoods, i'm sure this is something they would do if for instance two families were having a feud (all too common in Zawia, like petrol shortage).  On the bright side it keeps you on your toes when you drive, never know what to expect.
#5 In Zawia there are loads of funny (or scary*, insane*, dangerous* delete as appropriate) things on the road. If i tell you that 2 = 5 or even 6. No, it's not poor maths skills, it's Libyan Road Logic. Where you have two lanes to drive on or to wait at the traffic light, you can usually count 5 or even 6 lines of cars.
That's how it works
While driving on a 2 lanes road, you should always leave some space in the middle for speedy overtaking (that's 3 lanes already, keep up), add to that cars driving against traffic on one or either side of the road (sometimes people don't want to make a long turn so they just drive in the wrong direction). Oh and they don't slow down one bit! (that's now 4 or 5 lanes) and when you get to a traffic light, add 1 or 2 more lanes for people turning in any direction, including zigzagging against traffic or turning far right coming from the far left lane, the imaginary one, that is.

The craziest thing is that somehow it works… most of the time. People just know the "rules" and noone seems to find anything odd. The problem is when you arrive in town… believe me though, you learn fast lol.
I just love those little things you learn when living abroad. I'm pretty sure i'm gonna miss driving Libyan style, honestly i used to enjoy it.
Check out my other FUN FACTS and i'll bring you some new ones very soon from Saudi Arabia.